News just keeps piling up. At times it seems like I'm the only one posting any on MovieScene lately. Which is one of the reasons my blog is witnessing a decrease in updates. Oh well, at least all this news means there is always something to post on my blog when there is time available.
http://www.moviescene.nl/p/156615/marvel_voegt_nog_vijf_films_toe_aan_huidige_planning
Seems overkill, to announce movies so far ahead without anything to go on but a title (at least, I hope Marvel has some to fill in those release dates, though they're not spilling those beans just yet), and of course, a plan. However, this is not so much about the movies, as it is a show of strength and confidence. Marvel flexes its muscles to let the world know they're totally prepared to accept DC's recent challenge in annual cinematic universe crafting. DC has so far revealed they're planning ahead up till 2019, now Marvel does the same. You didn't think it was a coincidence this latest planning of the House of Ideas ran until 2019, did you? Plus, DC so far sticks to one movie a year, while Marvel eagerly doubles that amount, and in case of 2017 even triples it. With this slate of release dates, Marvel is making a statement they mean to stay the biggest player in terms of superhero movies. And backed up by the ever expanding might of Disney, they can make good on it. However, unlike DC, Marvel hasn't named any properties yet that can fill those slots. They better put their money where their mouth is soon, because (most) people don't remember release dates, they remember names. Like
The Batman
in 2019. I wonder what marvel hero gets to go up against that one, DC's strongest franchise still.
Ant-Man 2
maybe?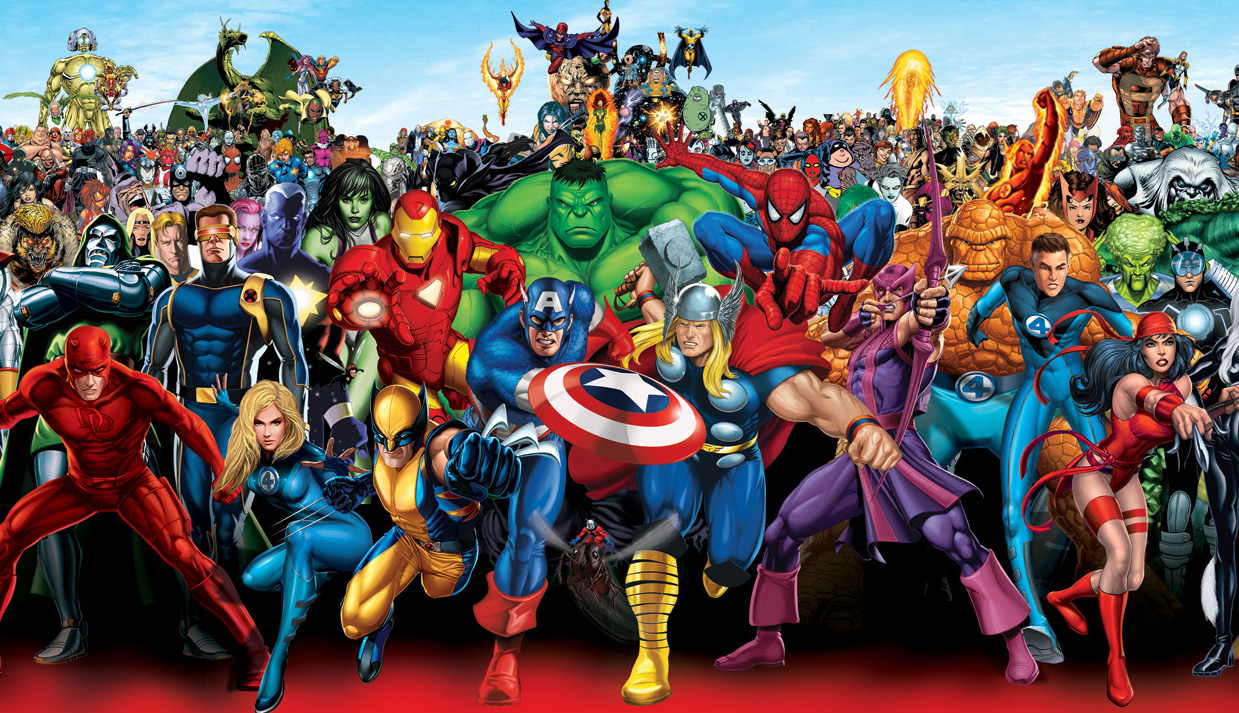 http://www.moviescene.nl/p/156632/nieuwe_comic-con_poster_jurassic_world
The first real
Jurassic Park
poster since 2001. And it's both beautiful and bad news. Of course, this is a great mix between the old - the thrashed Explorer vehicle, the beloved Velociraptor, the Isla Nublar setting - and the new -
Jurassic World
being built on the bones of the previous park in the background, but it also displays a disturbing, deeply rooted conservative attitude towards the
JP
dinosaurs. This is 2014. No respectable paleontologist will back that retro dinosaur as being an accurate representation of a Velociraptor. It worked in the early Nineties, but today's Raptors don't have arms like that and they are covered in feathers. However, Colin Trevorrow seems more adamant to recapture the glory of the first
Jurassic Park
film by reintroducing that vintage dinosaur look than by adhering to one of the elements that made
JP
great: making realistic animals of what otherwise would have been typical movie monsters. Say about
Jurassic Park III
's narrative quality what you will, at least it dared to show progression by adding feathered dinosaurs, and thus up-to-date science, to the mix. It would be a definite step back if Trevorrow chickened out on that just because audiences didn't think that much of
JP III
. Why? Because
JP
's representation of dinosaurs resonates strongly through popular culture. It's basically the dinosaur franchise that all others tend to copy. So if
JP
gets it wrong (and they admittedly have a few times), others will copy those mistakes and audiences are spoon fed the wrong notions about actual dinosaur looks and behavior. After two decades, Dilophosaurus is finally showing signs of ridding itself of that nonsensical neck frill and venom spitting action in the collective mind of the general audience. Does Trevorrow mean to reuse such silly concepts too, just because they look cool? If so,
Jurassic World
's dinosaurs are just that indeed: living theme park monsters, not actual animals. Maybe I'm just jumping to conclusions here though. I know that Raptor image on the poster is copied from a still of the kitchen scene from the first movie. It's probably too early to apply one of the final dinosaur designs for
Jurassic World
on any promotional material yet. So for now I'll keep my faith in Trevorrow. And I want one of those posters, but I'm not gonna get it as I don't care to visit San Diego just to pick one of these up.
http://www.moviescene.nl/p/156631/eerste_trailer_the_imitation_game
Benedict Cumberbatch adds another socially awkward genius to his repertoire. This time it's Alan Turing. And once again he excels in playing such a character, it would appear. This trailer makes me very interested about the actual movie. There's some terrific actors in there and a fascinating historical background to serve as a dramatic narrative. I'm not at all familiar with the director - the Norwegian Morten Tyldum - but this type of film seems to suit him. Or the studio's had some great trailer editors working on it, that's also a possibility. And already there is Oscar buzz generated around this film. Kinda obvious; solid actors, war story, gay emotional conflict, all typical Academy Award ingredients. I'm always put off by people dropping the word 'Oscar' around a movie that is still so far from its release date. It goes to show just what a political game the Oscars are. Then again, people suggested Oscar buzz for
The Monuments Men
well in advance too, but they haven't been doing that again since its release. Was it because it was a disappointing movie, or maybe because there was no homosexual aspect to any of it? Nevertheless, this trailer suggests a good film to me, so until I see it in theaters, that will suffice. But I'm not prematurely jumping on the Oscar bandwagon until the nominations are in. I am increasingly getting in on the Cumberbandwagon though. Ever since
Sherlock
, I developed a much more appreciative sentiment towards the man, and I'm even willing to forgive him his transgressions partaking in the further exploitation of the
Star Trek
franchise.
http://www.moviescene.nl/p/156643/nieuwe_trailer_star_wars_rebels
Speaking of exploitation,
Star Wars
has experienced that ever since 1978. And since Disney has bought the franchise, exploitation has been turned up a few notches. However, the more things change, the more they stay the same. Disney scrapped the then running animated series
The Clone Wars
and is now replacing it by
Star Wars Rebels
, which is... another animated series from the same creators! And it's set only a few years after
Clone Wars
, allowing the series to reintroduce some of that show's characters (like Obi-Wan Kenobi, as this new trailer shows). Other than that, the sense of adventure in a war torn galaxy remains the same, though this series does go for a slightly younger target audience. However, both this show and its predecessor feature a young Force sensitive protagonist, while the style of animation hasn't changed a bit. It basically makes you wonder why Disney didn't just pick up with
Clone Wars
where it left off. It makes little difference to me. I didn't watch
Clone Wars
, I have little interest in
Rebels
either. I prefer to stick to the big screen, even though I'm dreading what J.J. Abrams is doing to the franchise.